Amethyst Flowers Stalactite Sections Bright Purple Crystals Cabinet Unpolished Crystal Cluster Uruguay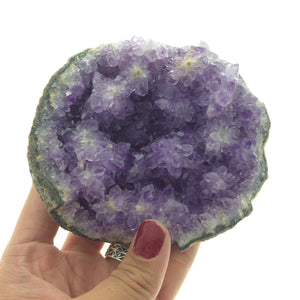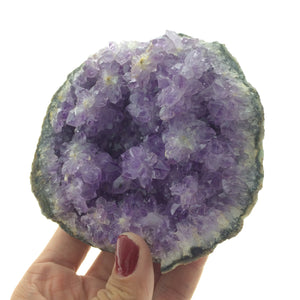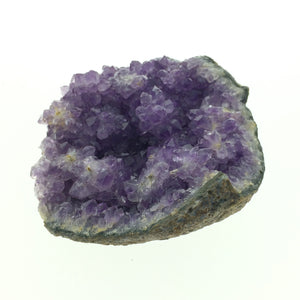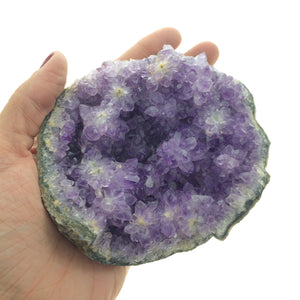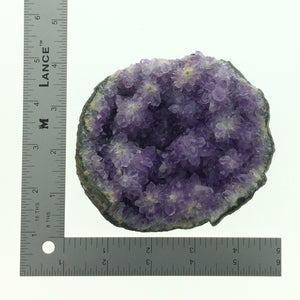 This is a sweet and charming specimen: a rounded cluster section of amethyst "flowers" on matrix, from Uruguay. This brightly shaded piece features the cross-sections of agate and quartz stalactites surrounded by amethyst, forming a "flower" shape. This cluster is unique in that it displays multiple miniature flowers on matrix rock. It would look equally beautiful displayed flat, as shown, or upright on a stand.
Uruguayan amethyst is somewhat less well-known than that of Brazil, but Uruguay is now producing some of the world's most beautiful specimens. Uruguayan amethyst has a characteristic bright yet rich shade, which varies from bright lilac to deepest royal purple.
*NOTE: Amethyst should not be displayed for prolonged periods in sunlight, as its color can fade.
----
Locality: Uruguay
Dimensions: 4.75" x 4.0" x 2.0" (124mm x 104mm x 52mm)
Weight: 482 grams (17 oz, 1.06 lbs.)
----
Keywords:
Amethyst--the purple quartz variety. Amethyst is associated with the crown chakra, with spiritual guidance and higher self. Amethyst is thought to protect and purify, while supporting dreams. It is also believed to aid one in releasing negative habits and attachments.
----
Please contact us via email or by phone for more details, or to receive more angles or a video of this specimen. Thanks!