Colombian Amber with Insect Inclusions Natural Polished Fossil Mineral Specimen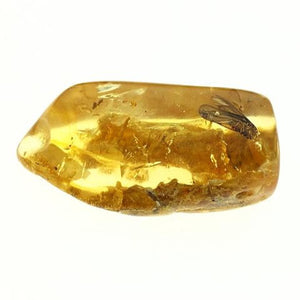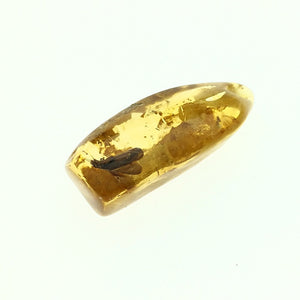 This is a truly unique specimen for your collection: a polished natural specimen of Colombian Amber, with fascinating inclusions! This mineral specimen is genuine Amber, which is approximately 20-50 million years old, from Colombia. Visible within are inclusions of what appear to be two long-winged insects of unknown species, leaned nearly face to face, as if dancing together. These amazing inclusions can be seen in macro view in several pictures. This natural, beautiful amber specimen has been hand polished through a proprietary process which results in the clearest and smoothest surface texture. A spectacular addition to any fossil or mineral collection!

----
Locality: Colombia
Dimensions: 2.38" x 1.13" x 0.88" (62mm x 29mm x 23mm)
Weight: contact us 
----
PHYSICAL: Amber is a fossilized tree resin found in several select locations around the world. True amber is at least 8 million years old, up to 320 million years old--younger "ambers", sub-fossil resins as young as 50 years old, are known as copal. Amber from Colombia is on the younger end of the spectrum, in a similar class to Indonesian and Dominican amber, but it is also known for its amazing array of fossils preserved within. Colombian amber has yielded all varieties of insects and arthropods, as well as plants and flowers.

HEALING:
Fossils are connected to deep natural connection, earth element, and seeing the big picture. Fossils are also connected to slow and steady personal growth, and inner work. Amber is associated with healing, warmth, and solar energy.

----
Please contact us via email or by phone for more details, or to receive more angles or a video of this specimen. Thanks!